Despite being a large Spanish city, Valencia has a town feel. Its wide avenues, with plenty of walking and cycle tracks, make it an extremely accessible city. Visitors and residents alike can rent and drop off bicycles at any number of locations throughout the city. The central park, created in the river bed that cuts its way through the city, means that in Valencia residents are never far from a green area.
Culturally, Valencia is a gem. Its City of Arts and Sciences is an architectural and functional masterpiece. The city is full of museums, galleries, churches and other buildings of historical interest.
The city of Valencia has many distinct neighbourhoods, all of which with their own identity. The Old Town breathes authenticity, the neighbouring Ruzafa has undergone significant gentrification and is popular for its café-style living. And nearer the coast, the rough edges of the Cabañal district belie its potential, minutes from the city's spectacular beaches, Malvarrosa and Las Arenas.
The city is well served by public transportation, with an extensive bus, metro and tram network. Valencia is also connected to other major Spanish cities via fast train links. The airport is easily accessible via public transport and for a greater variety of seasonal flights. Alicante is an easy 1.5 hour train journey away.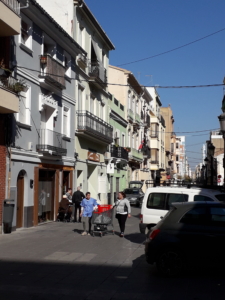 REAL ESTATE LANDSCAPE
Valencia prices have increased in line with the rest of the Spanish market. An often-overlooked destination, the city has generally benefited from price increases that have occurred in Spain over the last 4 years. Central areas such as the Old Town are now expensive, by local standards. Even areas adjoining the old town, such as Russafa, have now undergone gentrification and with this process, prices have increased, with very few 2 bedroom apartments now available for less than €200-300,000. With new build inventory carrying a premium in some of the neighbourhoods such as the Poblats Maritims and areas near the new football stadium, value can still be found in the hippy El Cabañyal.
Importantly, Valencia is a city that offers choice for all budgets.
VALENCIA AS A RETIREMENT DESTINATION
We rank Valencia as the number one accessible large city in Iberia. The flat city with plenty of walking and cycling paths, a strong outdoor and sporting culture, and outstanding shopping and eating options, is ideal for retirees. Underpinned by Spain's excellent healthcare reputation, the city almost dozen hospital and many clinics afford residents peace of mind.
Although English is not as widely spoken as further south in the Costa Blanca, the city's size means that expat groups and clubs exist and so it is easier to find other English-speaking people than in most places along the Costa del Azahar.