BENIDORM AND FINESTRAT
Benidorm's reputation precedes it. There is not a single person who does not have a view, whether positive or negative, about the place. Benidorm's reputation was built largely on the beer-drinking British tourist with little disposable income. They went out on a packaged holiday to this part of Spain. Bars and simple restaurants, often catering for exactly the same fare as back in the UK, were (and in some areas still are) prevalent. Brits looked to continue living their lifestyle, in the sun and at cheaper prices. Therefore Benidorm has spent much recent effort and investment in attempting to change its image to the world.
The location is known for its skyscrapers, beaches and hotels. The night life is a big attraction as the town has a large concentration of bars and clubs. Not only during the summer but year-round. Benidorm has three main beaches: Playa de Mal Pas, Playa de Levante and Playa de Poniente.
Like many larger Spanish towns where certain city areas have lost their identity, Benidorm has nonetheless retained an old town. With quaint narrow streets, churches and a big plaza with tremendous views to the city. This part of the town is famous for representing Spain's tradition, and often hosts processions, fireworks and street parties.
It must be assumed that the reputation of its core low-cost tourism will not change any time soon, as that reputation has been carved out over various decades. Benidorm is therefore reinventing itself around its edges.
Cala Finestrat is located to the south of Benidorm. A small tourist area located on the sea, it has a plethora of bars, restaurants, entertainment as well as a regular local market. It is easily accessible via local public transport. This area is capturing a slightly more sophisticated resident who wants to remain in proximity of all Benidorm has to offer but where the centre of activity is sufficiently far from Benidorm's low-end tourism areas.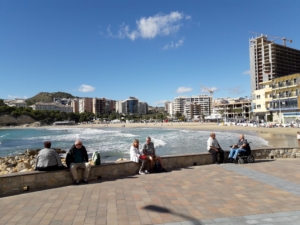 BENIDORM AND FINESTRAT AS A RETIREMENT DESTINATION
The Benidorm and in particular Cala Finestrat areas offer wide avenues, with walking paths and a gradual incline down to the sea. Although the residential areas are quite elevated relative to sea level (one of the reasons the area has panoramic sea views from most apartment complexes), the walk up and down is pleasant and suitable for retirees. There is a big population of elderly people from Northern Europe that decide to stay in the area during the winter. Benidorm also has one of the better know senior retirement villages. Located in a wonderful setting on the mountainside to the north of the town. It is almost always full and operates a waiting list.