Gandia is a coastal town located on the northern Costa Blanca, 70 kms south of Valencia City.  The town has a population of around 80,000, although this increases significantly during July and August.  The tourists that come to Gandia area almost exclusively Spanish and from inland (Madrid etc.).  Many own beach apartments and stay in their apartments throughout the summer months before returning home.  This is a Spanish destination – not an ex-patriot/international one.  It is also , of course, known for its connection with the notorious Borgia popes!
Gandia town.  This is set some 2 kms back from the coast and comprises a vibrant area of housing, shopping, offices, general amenities, restaurants etc. including extensive pedestrianised areas around the historic part of town.  Running right across the town is a wonderful tree-lined Paseo ( a mini version of Barcelona's La Ramblas).  Branching off from here is a notably fine Calle Mejor with hundreds of individual boutiques (a terrific shopping area).  On the fringes of the town there is a shopping mall, a Carrefour and a number of 'warehouse' type shops (e.g. Decathlon, MediaMarkt, Leroy Merlin etc.).
The town barely ebbs and flows through the seasons.  It is a working provincial town, with a very nuclear community.  It has its own economy, which is quite separate from what occurs on the beach.  This is vitally important for people who wish to buy property here.  Gandia town is as vibrant in December as it is in June (the opposite to most coastal towns).  This makes it a very attractive place within which to live for old or young – with all the amenities and vibrancy of a fun town that is easily accessible (together with cheap and easy access to Valencia City).  Gandia is also flat, making it workable for all ages – with a walk of 10 minutes taking you from one end of Gandia to another.  You would not necessarily need a car if living within Gandia.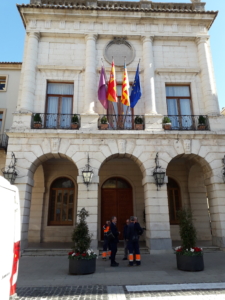 Gandia Beach/Playa.  This is some 2 kms east of Gandia town and is a fully functioning area on its own account.  There is a small port that has a fishing fleet and a small container area, a marina (almost fully enclosed – making it safe to berth boats) and a vast area of beach, with a delightful palm lined Paseo running alongside the beach.  The latter extends for some 3+ kms.  This area has thousands of flats (almost exclusively for holidays), shops, restaurants, supermarkets, hotels and a tennis complex.
The beaches are very deep (approx. 200 m from the Paseo to the sea), allowing for masses of space even at the height of the summer.  The beaches extend northwards as far as the eye can see and are (importantly) Blue Flagged by the EU.  During the tourist season the beaches are sieved and harrowed daily and are kept in immaculate condition.  They are probably as fine 'commercial' beaches as any to be found in the Mediterranean.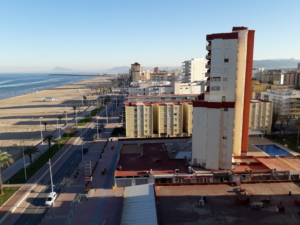 Gandia Playa is extremely busy during the summer months but effectively closes down during the off-season (apart from the marina and the port).  It is a great place to holiday (and for sailing and water sports) but may not be the ideal place within which to buy a permanent residence. This is better done within Gandia town.
La Safor (the area surrounding Gandia). Gandia is effectively the 'capital' of La Safor, a comarca/very small county that extends (very approximately) from the beach to around 15 kms inland.  The area is notable for plains of citrus trees bounded by dramatic mountains that rise up to some 841 m (2,500′).  This makes for a verdant and attractive landscape and one that is ideal for walking, cycling, rock climbing, hiking, horse riding and mountain biking.
For those who have a car and want access to villas with spectacular coastal views, the hills are a 20-minute drive away.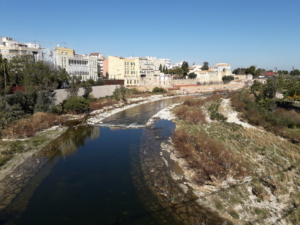 The Gandia area is well connected to Valencia.  Gandia is the last stop on the train line south from Valencia City (900,000 people) and its international airport. The arterial (north/south) AP7 runs right past Gandia with an entrance both north and south of the town.  The CV60 (a relatively new 'A' road) leads from Gandia directly inland.
REAL ESTATE LANDSCAPE
Villas.  The starting price for a (legal) Urbana, 3 bed, 2 bath villa with a pool on an 800 m2 plot is around 200,000/250,000 Euros.  These are mainly on the estates surrounding Gandia.
Further up in the hills, large villas with 1000-2000 m2 plots and panoramic coastal views, can start at around €350,000.
Town houses.  A workable, restored, 3 bed, 2 bathroom town house (usually without a garden) costs somewhere between 80,000 Euros to 120,000 Euros within one of the villages surrounding Gandia (e.g. Oliva).
Inland apartments.  New build 2 and 3 bedroom apartments with specular panoramic coastal views start at around €150,000.
Adosados (new terraced houses).  These Lego-like properties are scattered around the edges of towns and villages and are generally not suitable for elder people because the accommodation commonly starts from the 1st floor (the garage is on the ground floor). Prices vary with a workable adosado costing around 150,000 Euros.
Beach apartments.  These are generally summer apartments and are not viable for all year living. Prices vary widely depending upon their proximity to the beach – with front line properties often reaching 'absurd' prices.  Most are purchased by inland Spaniards.
Flats within Gandia town.  As with all towns there are good and poor areas and Gandia is no exception.  A good condition, 3 bed, 2 bath flat with a lift and balcony in a sound location sells for between 100,000 – 120,000 Euros.  These do not have pools and gardens.  A flat with a pool and a garden would sell for around 225,000 Euros – but these are in very short supply.  Flats are available between the 80,000 – 100,000 range but they will not be in prime areas and often need reforming to a greater or lesser extent or they lack a lift.  Notably, flats can be very low maintenance, with flats in Gandia, for example, having low running costs.
GANDÍA AND LA SAFOR AS A RETIREMENT DESTINATION
Gandía is a little-known destination which should appeal to retirees because of its cheap costs of accommodation, good transport links and authenticity. Because English is not as widely spoken as on the Costa Blanca, for maximum integration, new expat residents should be prepared to take up Spanish lessons.
Gandía is also one of the most competitive rental markets, in particular for winter stays. An apartment for a 6-8 month stay over the winter can be obtained from as little as €350 per month.
Our thanks to Nick Snelling for contributing content to this section.