Torrevieja is a city often misunderstood. Many people know it for its extensive, dense developments that stretch miles and miles. Even beyond the salt flats well into the foothills of the hills. For this reason, the city has gained a reputation as one of the low-cost dense locations in Spain.
Nonetheless, due to its size, it is not a homogeneous city. The very pleasant and quite upmarket coastal strip centred around the marina with its upmarket members-only yacht club. It extends to a large port area which is sheltered by one of the largest breakwaters in Spain. A couple of blocks from the coast, pleasant and low-density gated condominiums create a feeling of exclusivity. This sense will almost certainly, over time, lead to more high-rise, upmarket developments right on the coast all in prime locations.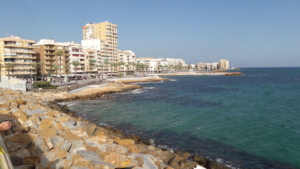 The city's old centre is not the most charming but it offers an array of cultural activity – in fact it is the only location south of Alicante that caters for someone looking beyond holiday living. Due to its size, the city has created neighbourhoods characterised by occupation by different nationalities. Swedish, British, Dutch, German, each has found its little corner of Torrevieja and real estate agencies, foreign shops catering for those nationalities and of course the concentration of second-home owners of those nationalities mean that it is possible to not stray far from one's own culture. This is not a region known for the desire of foreign residents to integrate extensively with local Spanish.