Alicante is a typical, medium-sized Spanish city which serves as one of Spain's most important tourist gateways. Its airport, together with that of Málaga, is the most important tourism entry point for foreign visitors into Spain. Alicante is the gateway to Spain's most popular tourism region, the Costa Blanca.
Alicante gets little attention (similarly to Valencia) as most visitors land and bypass the city by going north and south. As access to the highway does not even require passing through the city, most visitors have never visited the city.
The centre of the city of Alicante is compact. It stretches a few dozen blocks along the coast and back to the station and castle. In this area, traditional Spanish commerce such as leather goods and stores selling traditional Spanish food, all at very reasonable prices, sit side by side with authentic Spanish restaurants and small bars, serving breakfasts and menu del día.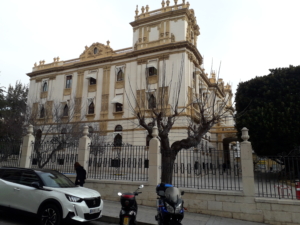 Architecturally, a number of interesting buildings are located in a relatively small area. Beyond that, the city stretches back many miles in a grid-like system of largely well-planned avenues comprising residential neighbourhoods and commercial zones. Alicante is the largest working city on the Costa Blanca and very Spanish.
The city itself has a wonderful link to the ocean, with miles of coastal promenade, complete with many shady seating zones and cycling paths, and with a large and attractive port and marina. The famous Santa Barbara Castle offers a unique panorama over the city. In addition to its city beaches, the city offers easy access to surrounding beaches. Many can be reached via public transportation such as bus.
Alicante is also the city that divides the Costa Blanca between the north and south, in theory it straddles both.