The "Peñón de Ifach", a bizarre rock formation 332 meters high. Makes the Calpe coastline one of the most spectacular and easily-recognisable landscapes along the Costa Blanca. Access to the town is from the coastal road which sits well above the town level itself. Once visitors and residents have navigated their way down, the town itself is an extensive, flat expanse characterised mainly by avenues of high-rise residential buildings.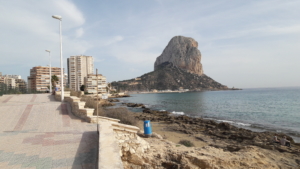 Calpe old town itself is a traditional pueblo which exhibits cobblestone streets and traditional Spanish architecture. The town still has some of its ancient city walls and a traditional fishing port, surrounded by many restaurants. Calpe is a popular second home destination with a range of expats. Including Belgian who have settled more in this locale than anywhere else on the Costa Blanca. Expats represent about 50% of the population.
CALPE AS A RETIREMENT DESTINATION
The flatness of the area means that Calpe is ideal for long walks and varying scenery both along the coastal promenade as well as along the salt pans. In keeping with so many Spanish towns, walking paths are common and cycling lanes are well designed and marked. The area attracts a number of international cycling teams who train here in the winter.