SANTA APOLA
Santa Pola itself has east and west beaches with a nice port and the town located between the two. It is flat and ideal for those who like to walk miles along a beach promenade. Its proximity to Alicante airport adds to its appeal because of the low cost of transfers and no need to rent a car.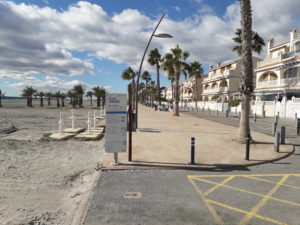 Calpe old town itself is a traditional pueblo which exhibits cobblestone streets and traditional Spanish architecture. The town still has some of its ancient city walls and a traditional fishing port, surrounded by many restaurants. Calpe is a popular second home destination with a range of expats, including Belgian who have settled more in this locale than anywhere else on the Costa Blanca. Expats represent about 50% of the population.
Visitors often confuse Santa Pola with Gran Alacant, which is an area of high-density construction located even closer to the airport, but with difficult access to the beach as it sits on the plateau above the Santa Pola town. Hundreds of new build apartments and townhouses have been constructed, again purchase primarily by Brits and Scandinavians. On the positive side, one of the largest operating senior living villages is located in Gran Alacant, and so those thinking ahead to assisted living and even care have a large purpose-built resort in this area.